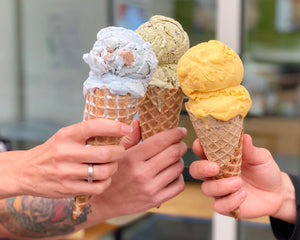 100% handcrafted ice cream using only the finest ingredients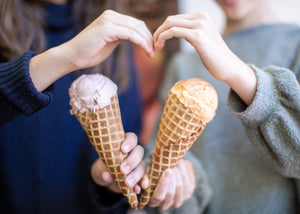 100% handcrafted ice cream using fresh, local ingredients
Ice cream you can feel great about eating


REAL FOOD INGREDIENTS YOU CAN TRUST
Our Vision is to serve you delicious ice cream you can feel great about eating! Ice cream made from scratch in a sustainable, and thoughtful way using the freshest, in-season, locally sourced ingredients.
Order for Nationwide Shipping
Get your ice cream shipped to you
anywhere in the continental U.S.
Welcome to Revival Ice Cream. We're so glad you're here!
Because YOU are the reason we're here!

Revival Ice Cream is more than ice cream; it's a movement. A movement to return to our roots, to uplift our community, and to create memorable moments—all through the pure joy of ice cream!

We lovingly handcraft small batch ice cream, using locally harvested and sustainable ingredients and dairy…all because we know that what we choose to eat matters. It matters to our minds, bodies, hearts, and our planet.

Revival Ice Cream brings you pure, purposeful goodness in a cone (or in a bowl). It's ice cream you can feel great about eating.

Taste The Love & Share The Love.
Nationwide Shipping
We're shipping love straight to your door.
Enjoy Revival Ice Cream at home! Order from anywhere in the United States.
Order Today
The Revival Difference
NO SHORTCUTS. NOTHING ARTIFICIAL.

RICH. UNIQUE. DELICIOUS.

Smell the freshly baked, crunchy, gluten & dairy free waffle cones when you come in to our store in Monterey. We SHIP our delicious cones too!

All of our organic ice cream bases are made from scratch on site. We also offer many, delicious dairy-free ice cream options. All ice cream bases have... NO GLUTEN. NO GMOs. NO SUGAR ALCOHOLS. NO CARAGEENAN. NO PALM OIL. just PURE JOY!

When you enjoy one of our loving crafted and scrumptious scoops, you've made the choice to treat yourself with REAL food ingredients you can TRUST .

Ice Cream You Can Feel Great About Eating!

WE ARE NOT A CERTIFIED NUT, EGG, SOY, WHEAT FREE FACILITY. THOSE WITH FOOD ALLERGIES SHOULD TAKE PRECAUTION.
The absolute best ice cream I have ever had and I am a Food Scientist trained in food sensory evaluation.

Farzaneh
The people working at Revival were welcoming and transparent about ingredients. My choice of flavor was excellent.

Cindy
The nicest employees, the best ice cream, open late...what's not to love?

Kalinda